Quiccs fans saw the tease back in December 2020 where Quiccs dangled a carrot with a photo of a QUICCS x Secretlab chair! after that you all were thinking of excuses to get rid of your existing one in anticipation of this special collaboration right? Well, the time has come! BUT WAIT, there's also an exclusive 12-inch Secretlab MEGATEQ to go along with it!
Hope you've been well! Super thrilled to be sharing with you yet another never before seen collab — this time with multi award winning toy designer Quiccs!
The Secretlab QUICCS Edition chair will be a limited edition run with just 200 units available exclusively for fans in the United States, Philippines and Singapore. Each chair will come with an exclusive 12-inch Secretlab MEGATEQ vinyl figure, a special edition design of Quiccs' signature TEQ63 toy created just for this collaboration and only available with the official chair.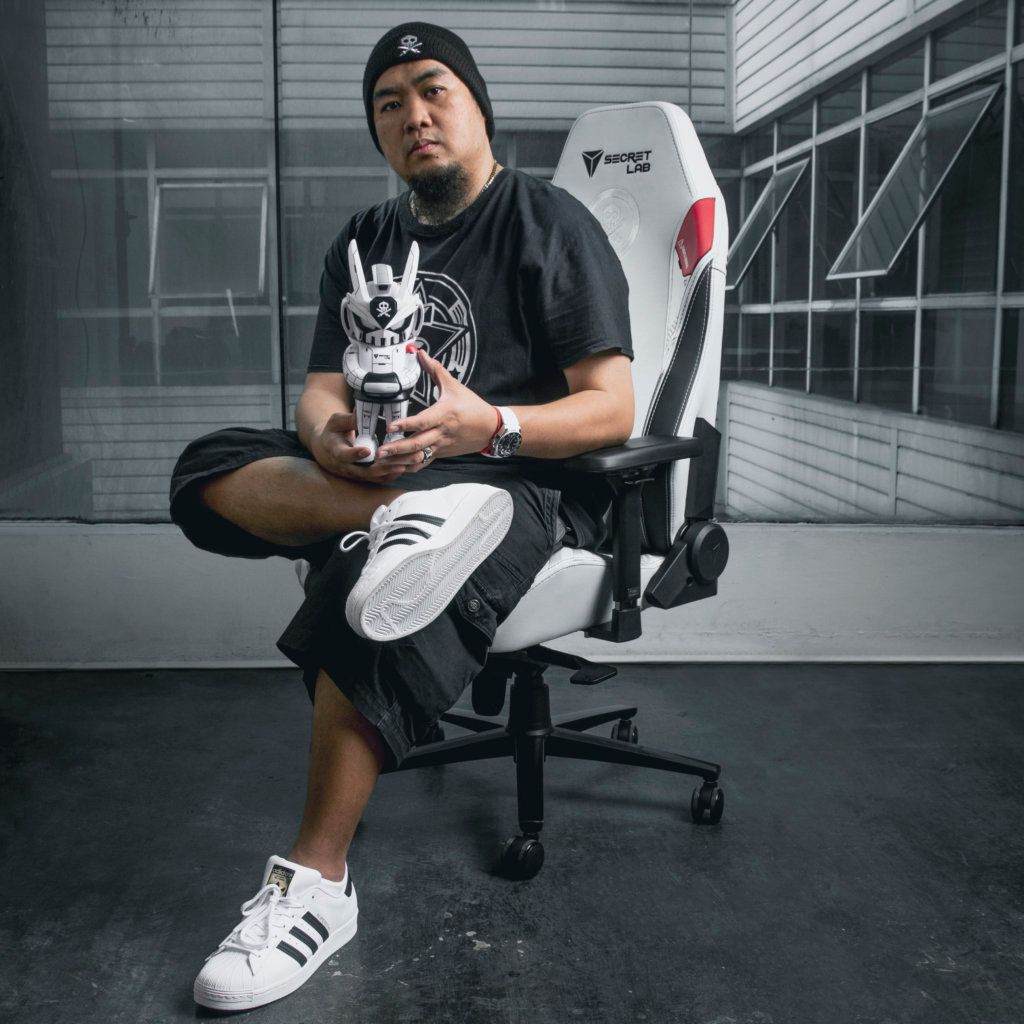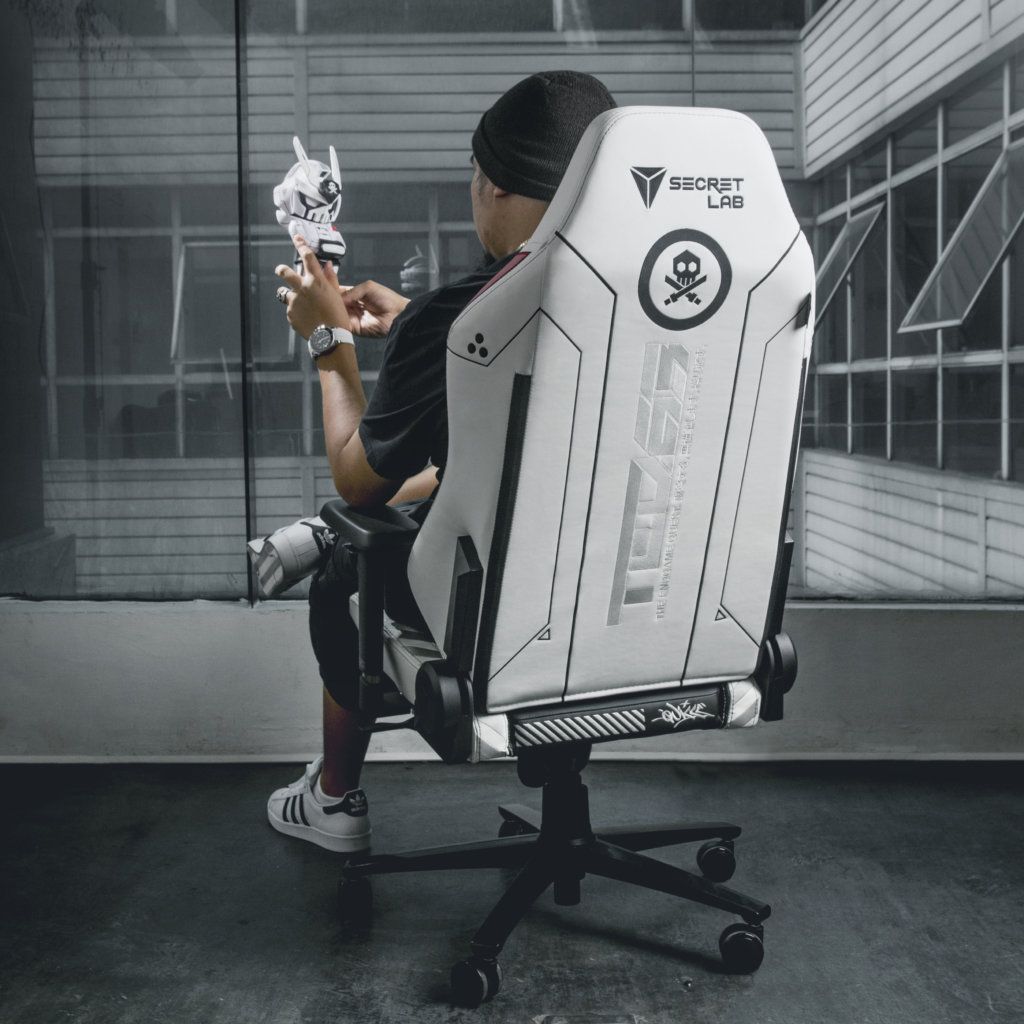 Best known for his flagship TEQ63 figure, Quiccs is the first artist to be voted by fans as Artist of the Year twice in a row in 2018 and 2019 at the Designer Toy Awards (DTAs), the world's premier accolade for toy designers. In 2019, he also bagged the Toy of the Year award at the DTAs, testament to his popularity within the designer toy community.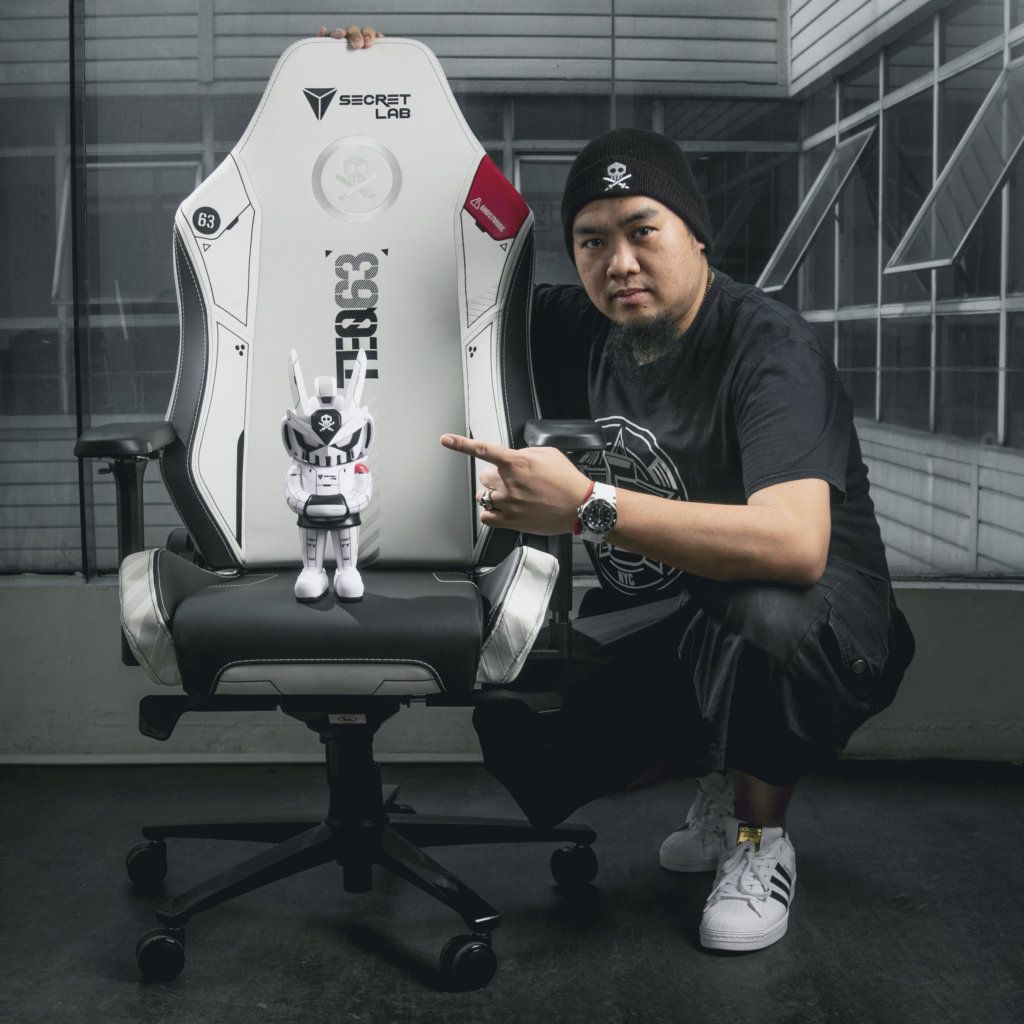 Created specially for fans of Quiccs and his post-apocalyptic Bulletpunk universe, the Secretlab QUICCS Edition is the first gaming peripheral that brings together the twin passions of gaming and designer toys, combining the design language and expertise of both Secretlab and Quiccs in a one-of-a-kind product.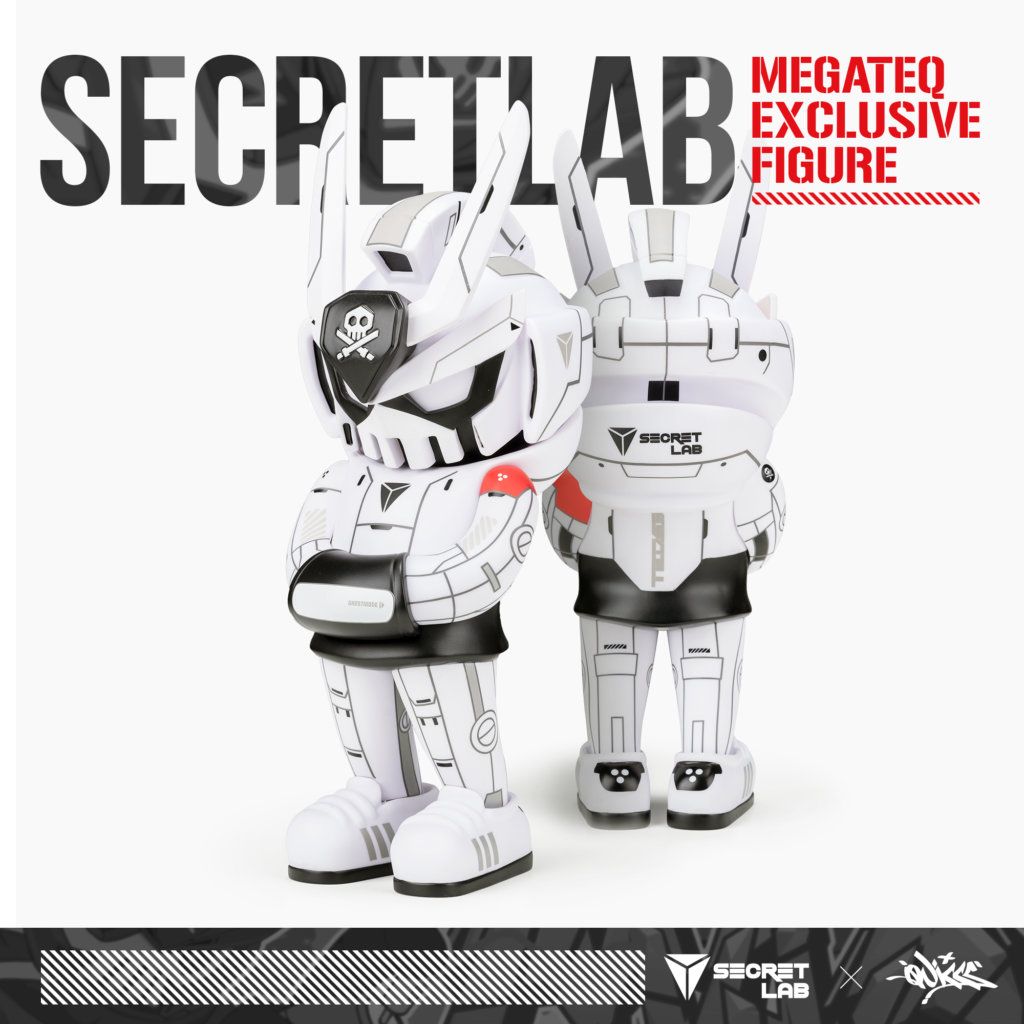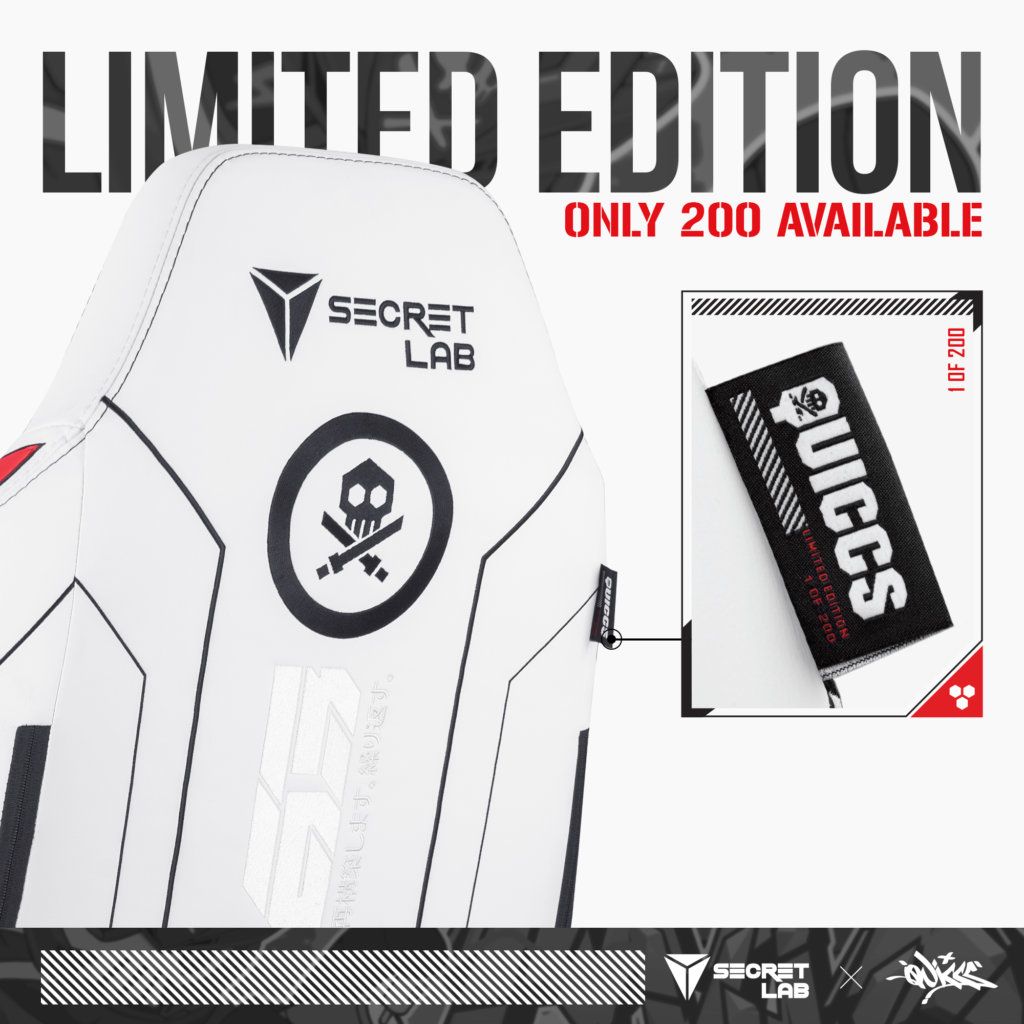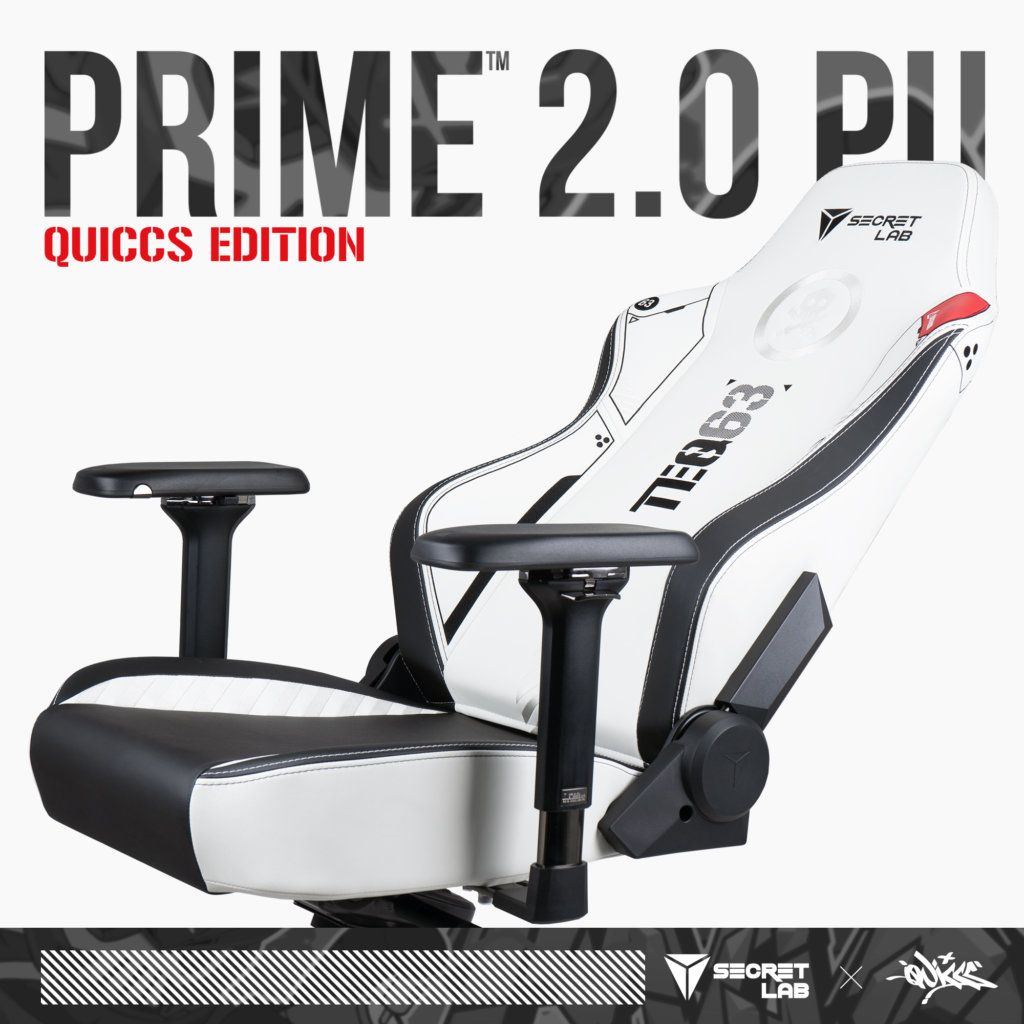 Only 200 units are available worldwide, each with a specially designed Quiccs label on the rear. Customers who buy a Secretlab QUICCS Edition chair will also be able to redeem an exclusive 12-inch Secretlab MEGATEQ vinyl figure, a special edition design of Quiccs' signature TEQ63 toy created just for this collaboration. The toy can only be obtained by purchasing the official chair.
Outfitted with all the features of the Secretlab 2020 Series, the Secretlab QUICCS Edition will equip fans with all-day comfort and allow them to complete their collection with a chair designed by their favourite award-winning artist.
Drawing on the unique amalgamation of hip hop, graffiti and Japanese robots that has shaped Quiccs' toys, the Secretlab QUICCS Edition is upholstered in white PRIMETM 2.0 PU leather, complete with segmented panels that mimic the appearance of an armored exoskeleton or mecha warrior. A pop of red on the side wings mirrors a similar patch on the MEGATEQ, adding a dash of color and vibrancy to their monochrome aesthetic.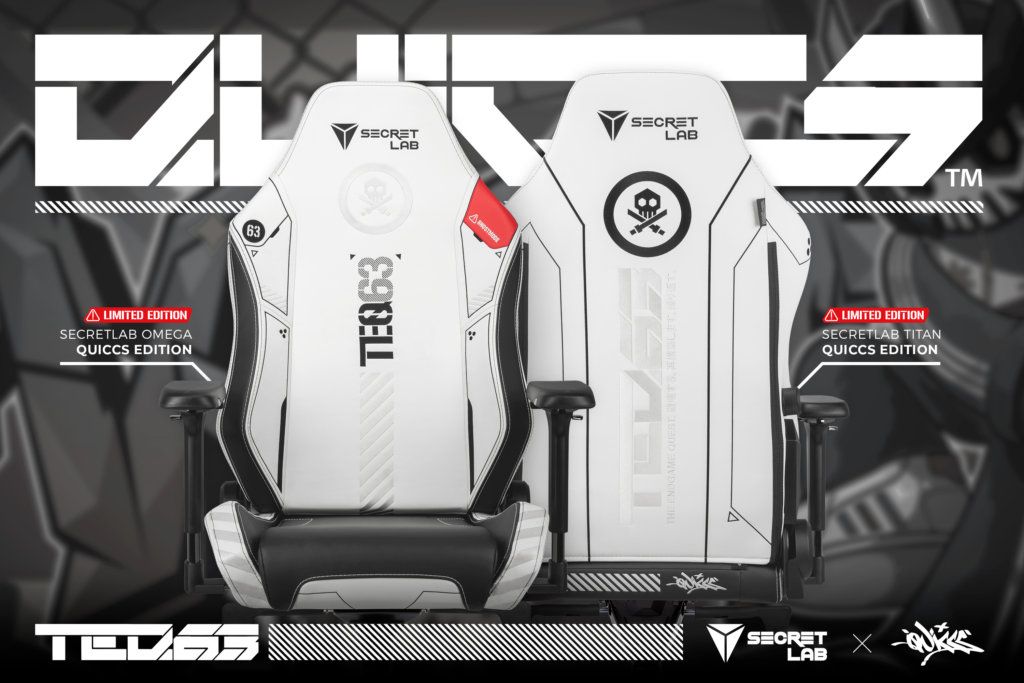 International gaming seat specialist Secretlab today announced that it is collaborating with award-winning toy designer, graffiti artist, and illustrator Quiccs Maiquez. Co-designed by Quiccs and Secretlab's designers, the Secretlab QUICCS Edition chair1 is a one-time, limited edition run that pays homage to exclusive, painstakingly-crafted designer toys.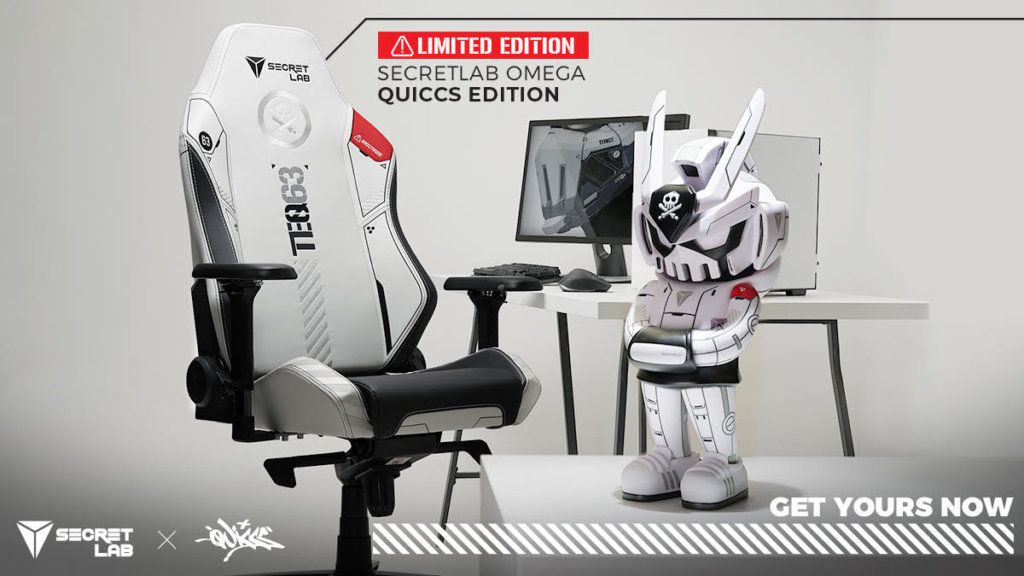 WHEN: Drops March 15, 9PM PT // March 16, 12PM PHT
WHERE: https://secretlab.co/quiccs.
Said Ian Ang, co-founder and CEO of Secretlab:
"Having won Artist of the Year and Toy of the Year awards from Clutter Magazine in New York, topped off with a recent collaboration with adidas, Quiccs is a giant among artists and toy designers internationally. It's easy to see why fans love his toys. We're craftsmen and lovers of good design at Secretlab, and we constantly seek out the best artists and designers to work with to challenge the status quo. With his talent and drive, Quiccs was a natural choice for yet another groundbreaking collaboration and we're really excited to partner with him on this special project for both our fans."
Said Quiccs Maiquez:
"I'm always looking out for new adventures and I wouldn't work with a brand unless I knew my fans would be excited about the final product. Secretlab is dedicated to perfection in their craft, and that's something that really resonates with me. They are the world leader in gaming seats for a good reason and I am thrilled to be able to work with them and combine our passions. The Secretlab QUICCS Edition is definitely the first of its kind and I can't wait to share it with my fans."
About Secretlab
Secretlab was established in 2014 to create the pinnacle of gaming seats — each designed and engineered using the highest quality materials and manufacturing techniques to ensure absolute comfort and unparalleled support. Today, Secretlab is the undisputed world leader in gaming seats and the top choice of the world's premiere gaming tournaments, top esports professionals and over 1,000,000 satisfied users from more than 60 countries worldwide, winning also rave reviews from international media publications and over 30 Editor's Choice and Best Hardware awards. And we're only getting started.
You can get your daily Designer Toy fix from our TTC Mobile App. It's free too! FREE! Download on the iPhone or Android smartphones. Search for "The Toy Chronicle" and all your Designer Toy wishes will come true! Pretty much.
Did we fail to mention IT's FREE.