In my personal opinion, simple answer, yes! But these are some hypothetical words for you to chew on, based on my excitement levels increasing on todays news! Hypothetical, as there are a LOT of variables & even more unknowns at this stage, but following two monumental pieces of news today surrounding the Designer Toy landscape in the UK, these are interesting times ahead, of that there is no doubt.
What do we know so far today? Following news that due to the unknowns of COVID, ToyConUK would be taking a sabbatical in 2021, to return triumphantly in March 2022 when the world will hopefully be somewhat normal (read HERE). Later in the day, news broke that DesignerCon, a staple of the US Designer Toy menu for the last 14 years in their various forms, would be making its first venture overseas with the announcement that DesignerCon UK would be planned for a summer adventure in London (read HERE).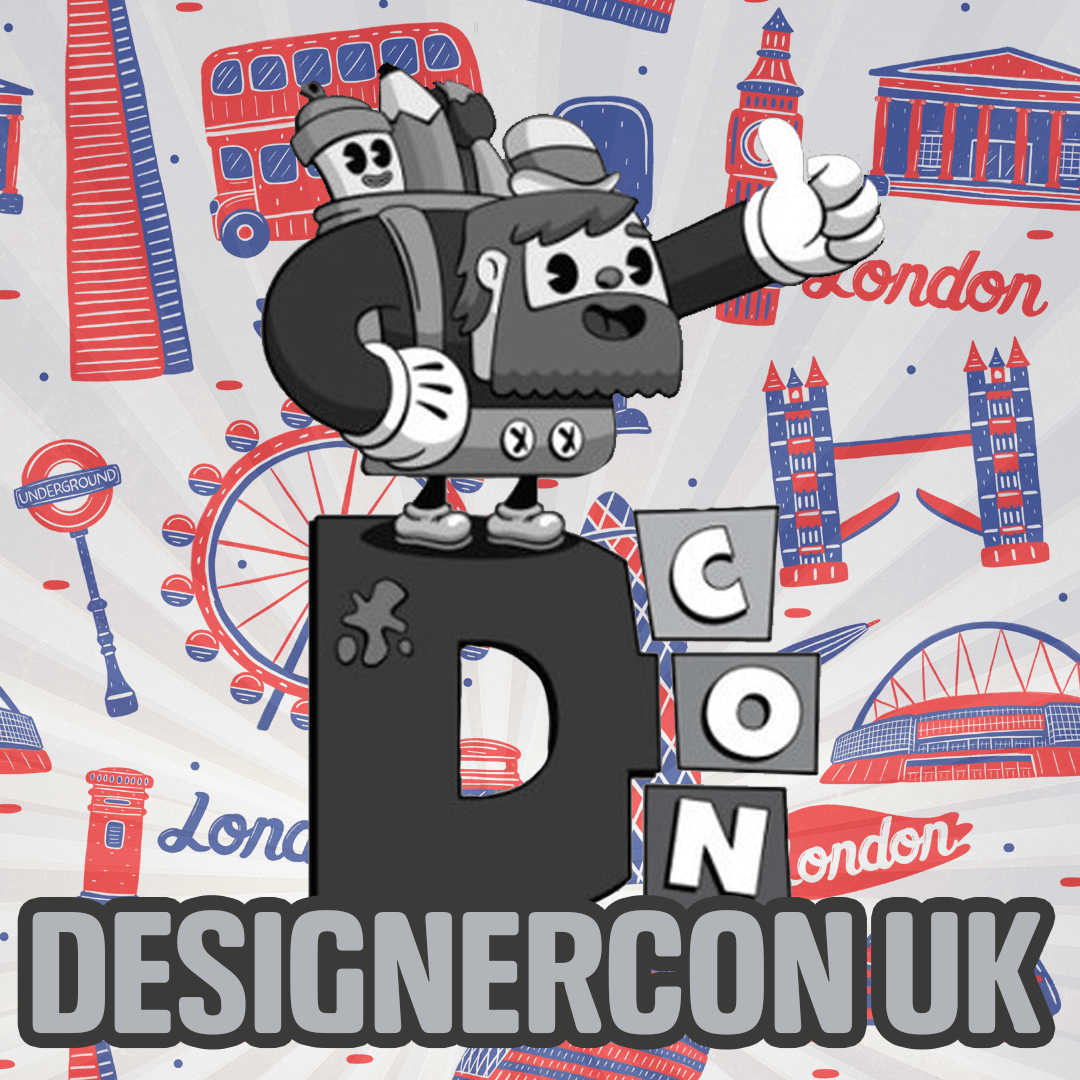 Now at this stage, there are no additional details on dates, locations (other than London) etc for DesignerCon UK 2021, but it definitely had our minds whirring about the possibilities of two Designer Toy conventions taking place in the UK in 2022 as the aforementioned excitement levels went into hyperdrive for what lays ahead!
Of course, as noted, there are PLENTY of variables & unknowns about how things will unfold over the next 24months. There are still the clutches of COVID consuming every living moment of our lives. But if the road to recovery continues, and DesignerCon UK takes place in August, deciding that 2021 was not to be a one-and-done advenure to London, and continues their foray into 2022, AND with the proposed return of ToyConUK in early 2022 – if the designer toy stars align – could ToyConUK & DesignerConUK co-exist in the UK?
For those that have followed the coverage of (or attended) both ToyConUK and DesignerCon, you will know that they are both quite different beasts. DesignerCon has seven years on ToyConUK in terms of when they were both established. Those seven years of experience plus the vast swathes of collectors in the US (as well a global audience) vs the UK levels of collectors, there are bound to be differences between the two conventions.
In recent years, and especially with the move to the new convention centre in Hammersmith, ToyConUK was really starting to grow into its own. Even with the start of the COVID pandemic taking hold in 2020, it definitely felt like the new location was attracting attention from artists that perhaps hadn't given UK too much thought in terms of travelling away from their comfort zone. Unfortunately, COVID put the kibosh on most travel plans last March 2020, but the intention was there.
Over the years since 2013, ToyConUK was able to draw in a range of global Designer Toy artists but the focus was mainly on the plethora of UK talent already on this island we call home. There was always attempts to bring more, but from discussions we have personally had with artists, they felt the risks far outweighed the reward. However, with the reputation of DesignerCon, bringing that prestige to the UK shores is absolutely HUGE! Could this spark a flood of artists & companies descending upon London? Could the likes of Alex Pardee, Luke Chueh, Amanda Visell, Coarse, Ron English, Tara McPherson, Scott Tolleson, Kidrobot, Superplastic etc all be tempted to head to London for DesignerCon UK?
Another point to note, purely based on information released today. ToyConUK plans to return to action in March 2022, and with DesignerCon UK taking place in August 2021 could that mean August 2022 would be a possibility for DesignerCon UK II? A six month gap between conventions would work perfectly, and would allow bank balances to be restored and artists to recuperate between the months of March-Aug.
ToyConUK could still very much operate with the focus on the UK artists as it has done for many years, with wider known artists bringing their art to London in the early parts of the year. DesignerCon UK enticing those from afar to venture unto these parts of the Designer Toy globe later in the year. There are many benefits to ToyConUK, I feel for DesignerCon UK to be held here in London too. Bringing more eyes, feet & wallets to the UK will hopefully open up more avenues for artists & collectors alike. Bringing even a slither of DesignerCon traffic over to the UK will hopefully capture the imagination of collectors & artist, and help them look for more events such as ToyConUK at different parts of the year.
So, the question we posed throughout, could ToyConUK & DesignerCon UK co-exist in the UK?
My answer, again, yeah. Fuck yeah it could! Bring it all on!
Whatever transpires over the next 24 months, these are VERY exciting times for the Designer Toy community here in the UK and further afield!
---
ToyConUK Social Media
Facebook: https://www.facebook.com/ToyConUK/
Instagram: https://www.instagram.com/toyconuk/
Twitter: https://twitter.com/ToyConUK
---
DesignerCon Social Media
Facebook: https://www.facebook.com/DesignerCon/
Instagram: https://www.instagram.com/designercon/
Twitter: https://twitter.com/DesignerCon
---
If you want to support The Toy Chronicle, we have a number of options available to you. We have started to stock a wide range of releases that we think you will enjoy. Ranging from production pieces from Superplastic, Unbox Industries & POP MART, to original pieces from our favourite artists like Sank Toys, Quiccs & Czee13. Purchasing one of our pins also really help. A quick, cheap way to also support the TTC is by making a small donation. These can all be completed below through our online shop. We appreciate all the support! Thanks!